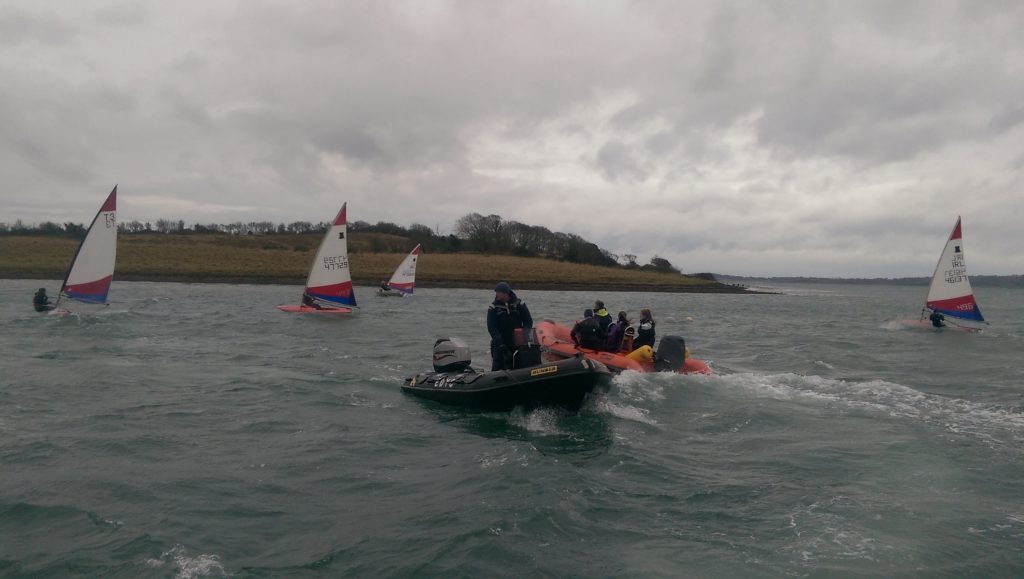 East Down Yacht Club is a Royal Yachting Association Training Centre as well as being an RYA Champion Club. This means that we provide training, currently for dinghies and powerboats. Furthermore the Champion Club status recognises that we encourage young people to sail in the RYA pathways fleets of dinghies Toppers and RS Fevas, that are available for RYA Junior and Youth Classes respectively, taking part in open competitions, including the RYA Youth Championship.
At the date of publication of this Handbook the following training programme has been set, but please check the club website for updates :-
May & June – Friday evenings 6.30pm to 9.00pm Dinghy improver sail training
This activity is for both youths and adults that are already sailing independently and want to improve their sailing skills. Use may be made of the club training fleet of dinghies or the participants own craft as required.
July – Summer dinghy sail training weeks
This year 2016, EDYC is offering Youth sail training. The courses shall be provided dependent upon sufficient demand being established.Please contact the club if interested. Participants should expect to improve boat handling and racing techniques.
Powerboat Training
The club relies upon a pool of competent safety boat helms to deliver dinghy racing. The proper preparation is an RYA Powerboat Course in basic boat handling, then a follow on course in providing safety cover. It is great fun and improves skills and confidence. Power boat training is offered on demand during the year. Information shall be provided on such opportunities by the club Chief Powerboat Instructor.
Safetyboat Training
Safety boat training may be available within the season.
Improver Training
A number of Saturdays mid-season have been set aside for Dinghy and L17 activity as shown in the calendar, these will be organised by the respective classes and will have the club facilities available. The Strangford Lough Youth Series is also an opportunity for youth sailing improvement – see calendar for the six events on Sundays.