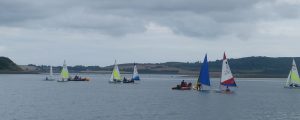 Update 26th September 2022: much of our on the water training this year is now behind us; over the Autumn and Winter our training has a different emphasis including powerboating and theory; for example please see the post about a day skipper course proposed for November 2022.
TRAINING AT EDYC 2022 – East Down Yacht Club is a Royal Yachting Association Training Centre. This means that we provide RYA training, currently for dinghies and powerboats from our own resources (see list at bottom).  We encourage young people to sail in the RYA pathways.
We have an opportunity for  externally provided other courses including:-
Diesel engine maintenance
VHF Radio,                            First Aid
RYA Day skipper theory,     Competent Crew theory
Race Rules/Protest Training
An overview of the year's training plan  2022.
We have gone thro several names for – Friday Night Training – but these words seem to mean what we do – previously – Maroon Stars – a banner phrase for developing competencies within the club. – similar to Bright Night sailing, previously Dinghy Ducks. It used the club colours and added a simple word and  encompassed all our on water training advancements but back to Friday Night Training.
Fri night training – Every Friday evening 6:30 (ready for water)  May, June
This will focus on improving water based skills – training, parents are also encouraged to interact.
Dates – as per club calendar – ie Fri nights
Times evenings 18:30 to 21:30  – Competition TBA
Dinghy training for every age and with ability ranging from beginners (not complete novices) to experienced. Every Friday evening in May and June, sailing equipment provided, all are welcome. After attending 3 sessions, participants must become a member of EDYC to continue with the training. Appln form and fee involved.
EDYC Dinghy training week –  July – see calendar

A full week of training led by our experienced RYA Senior Instructor and qualified assistants. A fun filled week for individuals and families with the provision of all sailing equipment. The week will be tailored to the experience of participants allowing all to improve their skills and aim to gain an RYA qualification. Members  and Non-members download and apply  via this form (form to be updated ready for July 22)  with details
Paddle of the month –  2nd Thurs of each month on the water for 7pm – see calendar

Led canoeing sessions for all abilities, a chance to explore Strangford Lough from a different perspective and learn new skills.
EDYC kayak/canoe evening – Wednesday evenings before and after sailing season – 7pm (Kayak/SOT/SUP)
A group paddle to make the most out of our lengthening and shortening evenings outside the club racing season. So dig out your SOT, kayaks or canoes to enjoy some time on the water when there's not enough daylight to race.
Powerboat Level II course
We annually  completed a powerboat level 2 course either in pre-early season or post season, subject to interest. Likely to be mid/post season in 2022. Email Contact to (gp14edyc@talktalk.net)
Dinghy Race Training Aug 22
We plan to deliver race training (list below) on some of the Saturday afternoons, and adult training as 2 day courses during August subject to demand.
To enrol in any of these courses or for further information please contact the Sailing Committee or any of the club instructors. Most will be handled by email (edycsec@gmail).
RYA Courses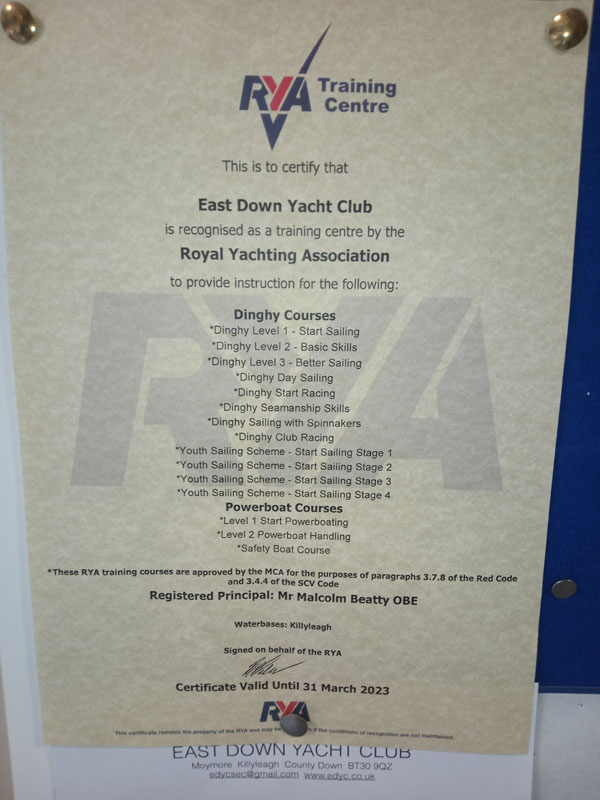 This is to certify that East Down Yacht Club is recognized as a training
center by the Royal Yachting Association to provide instruction for the
following:
Dinghy Courses
Dinghy Level 1 – Start Sailing
Dinghy Level 2 – Basic Skills
Dinghy Level 3 – Better Sailing
Dinghy Start Racing
Dinghy Seamanship Skills
Dinghy Sailing with Spinnakers
Youth Sailing Scheme – Start Sailing Stage 1
Youth Sailing Scheme – Start Sailing Stage 2
Youth Sailing Scheme – Start Sailing Stage 3
Youth Sailing Scheme – Start Sailing Stage 4
Powerboat Courses
Level 1 Start Powerboaing
Level 2 Powerboat Handling
Safety Boat Course