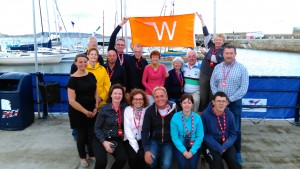 The Irish Wayfarer Nationals took place from the 9th-12th July as part of the Volvo Dun Laoghaire Regatta which is the biggest sailing event in Ireland this year, with 3000 sailors on 424 boats from 69 different sailing clubs. There was only a disappointing 9 Wayfarers participating in the event; one from Royal St George Yacht Club, two from Cullaun Sailing Club, two from Ramor Watersports club, three from East Down Yacht Club and one from Greystones Sailing Club. The Wayfarers had 10 races over the four days with two discards permitted.
Sailing got under way on Thursday afternoon with two races a short distance outside the harbour walls. In a strong sea breeze gusting up to 20 Knots with choppy seas conditions were challenging enough. The first race was won by Margie Crawford and Robin Anderson in Mistral from EDYC with Margaret Hynes and Mike Hayes in Seadhna from Cullaun SC second and Alan Bell and Deirdre Issad in Almera also from EDYC in third place. Race two was won by Seadhna followed by Monica Schaefer from Greystones Sailing Club and Elise Beket in Anamcara and Almera in third place.
Friday saw the weather strengthening with the winds gusting between 25 to 30 knots; as a result of this the racing was delayed for a few hours until the decision was made for them to take place within the harbour. The winds were very flukey with very strong gusts which caught one or two boats out causing some to capsize…..one wayfarer had gear failure and took no further part in the remaining days racing. Race one was won by Anamcara with the consistent Seadhna second place and John Turner from Ramor Watersports Club and Elaine Vogan in Rattle and Hum finishing third. Rattle and Hum was now getting into her stride and won the next two races with Sean Hynes and John Wilson in Ramor 1 from Ramor Watersports Club doing a fantastic job taking two second places.
Saturday saw us out for three races in Dublin bay again but in an area very close to the very daunting cargo shipping lanes. The weather was dry with a 10 to 12 Knot westerly wind and not such a large sea swell as Thursday. Race one was won by Mistral with Anamcara a close second and Rattle and Hum third. Race two and Mistral had thought she had won again but realised she missed a mark so lost out, honours went to Almera with Anamcara second and Rattle and Hum third. Race three saw Mistral unfortunately de-masted as she powered up on the start line causing her to get towed back to port. Rattle and Hum again won with Seadhna second and Ramor 1 third.
Sunday was the final day with two races out near the cargo shipping lanes again. Today the weather was at its lightest of the entire competition so tactics were very important. With calmer seas and lighter winds the mighty Anamcara powered her way to a win with Mistral taking a well deserved second having been de-masted the previous day and Almera taking third place. The last race again saw Anamcara taking the win for a clean sweep for the day, Seadhna squeezed into second with Mistral taking third spot.
Congratulations to Monica and Elise on becoming the 2015 Irish National champions.
Overall our entire Irish National Championship event was very professionally and smoothly run and all Wayfarer competitors had a fantastic experience. Our thanks go to the National Yacht Club for hosting our event once again, and we would like to especially mention Wayne from NYC for helping to fix damaged Wayfarer boats on a number of occasions. Many thanks must also go to Monica Schaefer for the tremendous amount of hard work and effort that she did in the background to make sure the event ran smoothly.
The final results are:-
1st Anamcara W10952: Monica Schaefer……………….Greystones Sailing Club
2nd Seadhna W10826: Margaret Hynes………………….Cullaun Sailing Club
3rd Rattle and Hum W10018: John Turner……………….Ramor Watersports Club
4th Almera W1539: Alan Bell…………………………………East Down Yacht Club
5th Ramor 1 W10970 Sean Hynes………………………….Ramor Watersports Club
6th Mistral W10699: Margie Crawford……………………East Down Yacht Club
7th Into The Mystic W9229: Jim O'Sullivan……………..Cullaun Sailing Club
8th Sonny Boy W10149: Luan Willis………………………..Royal St George Yacht Club
9th Dye Happy W10991: Henry O'Friel…………………….East Down Yacht Club
Robin Anderson, Crew W10699