The Wayfarer Class AGM, which usually precedes the main club AGM was held on Wed 22nd Nov 17 in the clubhouse at 19:00 hrs, commencing with refreshments and business at 19:30, lead and chaired by the class captain, Robin.
W Captain's Report
Normal AGM business was attended to with a captain's report on the year of which highlights were – the restoration of the club Wayfarer (Robin's work was much appreciated). Both the class and Friday night training availed of the refurbished dinghy. A highlight of the year were some 8 attending the UK nationals. A low light being no wayfarer from the club attended the Irish Nationals which were held as part of the Dún Laoghaire Regatta. Some thoughts were expressed about the club's 50th year and the Wayfarers 60th year coinciding next year and about what would be undertaken.
Friday night training or Dinghy Duck (May and June) was very popular and thanks were expressed to the assisting experienced helms for their presence, skill and boats which assisted the training and it was considered this should be run in the next spring as well. (The class captain agreed to email his report for web inclusion – don't believe all you hear!)
The class prizes were given out – names are available (contact the class capt)  but even a non W person got a prize !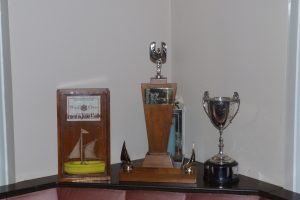 Winners photographs are below
The middle photo with Robin and a trophy (The Yellow Boat Trophy) is for that non W person (Geoff) who was not present, but will received the prize. Other photos have obvious recipients.
The three meals sailing event was humorously recounted.
A new class captain was elected – Rachel B will be the class captain for the incoming year.
On a sadder note Robin announced that he would be leaving the club and sailing. This was noted as below
"Long standing member leaves club "
After ten years crewing with Gordon J and two years crewing with Margie, Robin A is leaving the club and sport, the Wayfarer class of which he is outgoing class captain is very sorry to see him leave and as a small token the Commodore presented Robin with a picture of the EDYC  Wayfarer fleet returning home.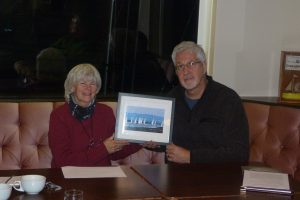 The class are commended for their enthusiasm, with some 17 members attending and look forward to the Club AGM, the new season and some rescue and capsize practice before the season starts.
Hill walking and some rules training may  be undertaken in these cooler months.
Best Wishes to all  were expressed at the conclusion of the Wayfarer Dinghy Class AGM Wed 22nd Nov 17 at EDYC