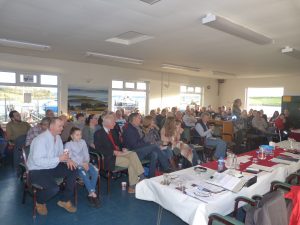 This was a well-attended AGM  (Annual General Meeting) preceded by conversations between members and mince pies, sausage rolls, sausages and shortbread plus assorted drinks.
Prizes were given out first and these are reflected by the photographs lower down and the prize list already published.
This year the prizes were engraved tumblers accompanied by a coaster, plus the perpetual cups and salvers which form part of the club's history.
The Formal EDYC AGM of 3 DEC 2017
The AGM business was conducted as per the agenda with election of officers and AOB handled.
Lastly it was a super moon night as seen above Killyleagh coal quay.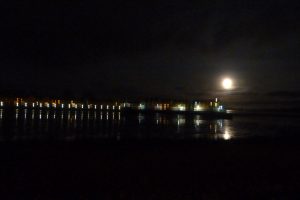 Further details on the AED Defibrillator  (defib) – placed outside and to the right of the clubhouse entrance door.
A key to release the defib is within an adjacent glass fronted box – break the glass with the chained hammer and remove the key.
Open the defib box with the key you have obtained. Use the defib as per your training, as per its own instructions or this video
Recent First Aid courses contain this training and our last course covered this equipment – we have trained and qualified people.