Between storms Malik and Corrie we raced dinghies at EDYC – Sun 30 Jan 2022 fifth race day of the Icicle race series.
In the short time interval between two named storms which were hitting the UK, our club ran some dinghy racing.
To keep everyone relatively safe, the course was set in the dorn and also time adjusted to miss the wind increase with the onset of storm Corrie on the Sunday sfternoon. We brought the start forward from 14:00 to 12:00. Corrie was forecast to increase wind strength from 15 knots gusting 23 at 12:00 to 20 g 37 at 15:00 on Sunday.
The dorn is a great resource for safe sailing when the tide is high. It means that our club activity can have a narrow and safe area which has some shelter from the worst storm influence.
Perhaps the conditions put some off attending. We had three Lasers, two Toppers and an RS400 turn out. The big dinghy class start went well and they got off well. The RS400 chose to retire between races. The second class start with only two toppers appeared more difficult with several capsizes before the line and in the end all the Topper races were cancelled and both toppers returned to the slip.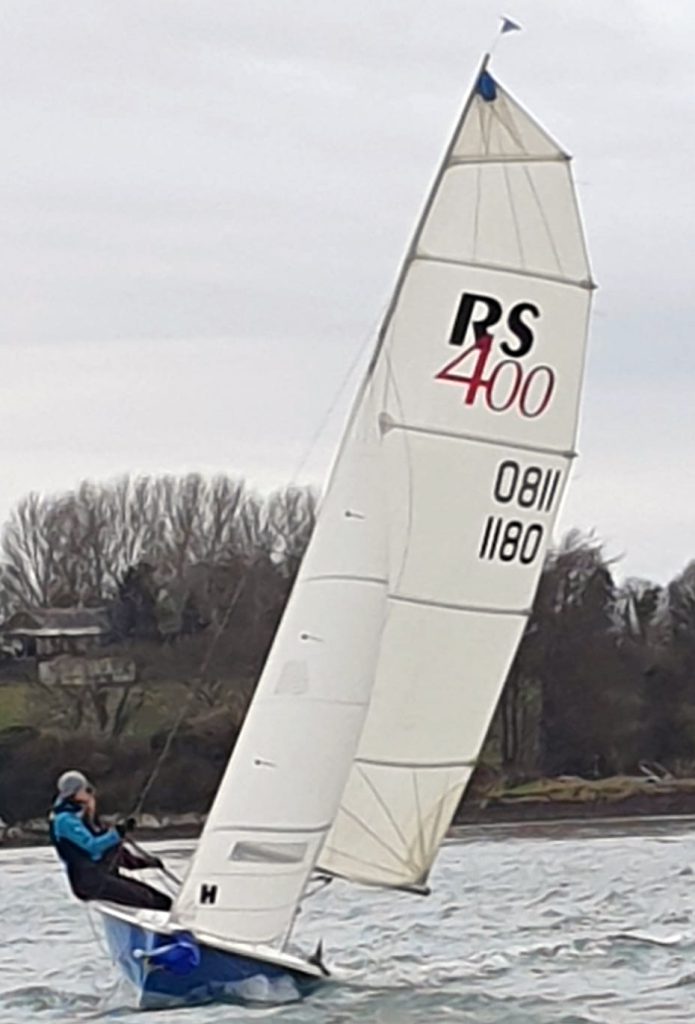 The big dinghies first race did two laps of the course and one Laser retired with broken gear. A second one lap race was run for the two remaining lasers and this proved quite close in the results.
During racing the wind was measured in the mid 15 to 20 knot range with the last race having consistently just below 20 knots.
Post race the ususal challenge of which soup to have was surmounted by most competitors, not to mention the special vegetarian sandwiches which were available. Thanks to all the volunteer staff who assisted in many ways, even to competiotors who go back into the water to retrieve the three support RIBS and to the tractor driver who all make the event run and complete speedily and efficiently.
As we left the club in early afternoon, the white caps and strong southerly wind swept the lower lough – meaning we wished all a safe return home and fair winds for sailing in the future. Next Sunday (6th Feb) is the last race day of the series.

There are some excellent videos of the sailing in these races here is a link to one – best watched in full screen.
Further videos on the associated whatsapp groups.