First run in 2002, thus 2022 marks the twentieth anniversary of the Ardglass Open Offshore Race presented by EDYC. With the 2020's winning yacht Self Expression not participating, and the 2021 event cancelled, a different winner was guaranteed this year.
Race Organisers were concerned all week by the forecast showing a south easterly 20-25 knot wind. An amendment to the sailing instructions on Friday evening added the option to race inside Strangford Lough. We will never know exactly how many competitors were discouraged by the prospect of a lumpy sail across the bar mouth and an uncomfortable swell both racing out to Ardglass and cruising home. Two boats withdrew, in part down to the forecast leaving an eleven boat fleet.
This was an open event for keelboats and had four classes; IRC1 & IRC2 ; NHC and NHC restricted sail. IRC1 was by a distance the most popular class with five boats including two J109s; familiar teams in new boats.
The day's weather was overcast and wet. In the relative shelter of Holm bay the wind was 12 to 15 knots from the South East. After a 10am phone call to Ardglass Marina, the organisers were convinced that racing within Strangford Lough was the safer, more enjoyable option.
Starting from the EDYC Committee Boat the course was South to mark 11 (Jackdaw Island), then North to the mark 9 at the top of Taggart Island; and then across the start/finish line – mark E. All marks were to Port. The restricted sail class sailed two laps; with all other competitors sailing three.
The wind strengthened during the early afternoon; especially near mark 11. The EDYC based Impalas tried a range of sail combinations from number three headsails and reefed mains to number ones. Several boats retired during the race.
KYC's Le Bascular (IRC1), who also won in 2018 and EDYC's Maverick (IRC2) share the trophy of the Ardglass Cup.
IRC1 results link, IRC2 results link , NHC results link and NHC restricted results link.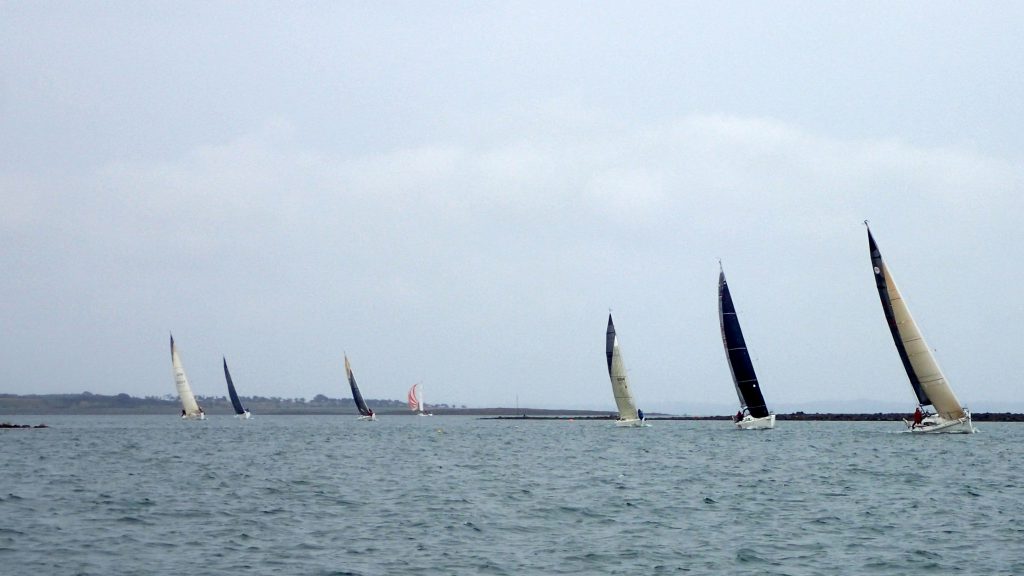 Thanks to all competitors who attended and to all organisers and officials who voluntairily worked on the event.
This has brought the main summer racing season to an end.