While our club celebrated the success of the Impala Sonata Open Keel boat event last weekend, some of our junior dinghy sailors took on the RS Feva Nationals in Wales. Below are some exciting photographs taken from the event and an account written by one of the crew.
Last Saturday, the first day of the British Nationals commenced at Plas Heli National Sailing Centre in Wales. It was a glorious day, the sun beaming down on all the sailors, leaving little use for the habitual spray jackets or woolly hats. It was a brisk breeze at the start with little lulls, but eventually died down to glass water, forcing the race committee to whiskey us all at the final beat on the third race.
(W – whiskey flag used to sweep the course)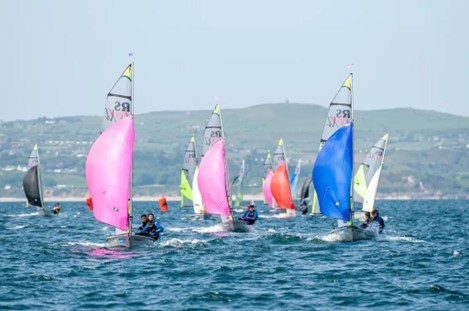 Through the night the wind would build up into a consistent, heavy breeze, this time leaving no need for the whiskey flag. Kate hiked as hard as she could to keep the boat flat, and we'd like to thank the Committee for lending us such a brilliant boat – we couldn't of done it without you!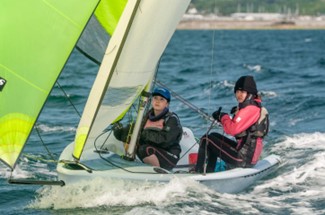 With the second and windiest day over, we could all sigh a breath of relief. Now we were categorised into Silver Fleet and Gold Fleet, with me and Kate representing East Down in Silver. To complete the weekend, we had a drifter day. Once again, the sun was relentless; imploring us to use copious amounts of sunscreen, and although we were all excited to get back home, we had become a little bit attached to the sandy slipway of Plas Heli, as well as the audiences watching us as we struggled up the beach, lugging our boats behind us.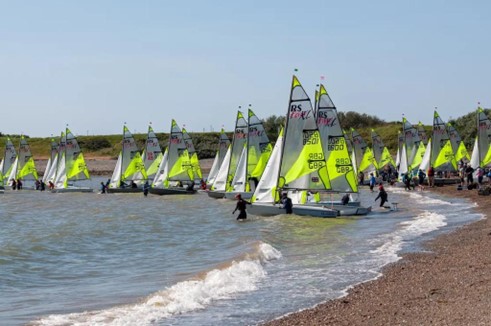 Report by Rose and Kate – after attending the RS Fevas Nationals 27th to 30th May 2023.
A UK class report via this link with a results link at the end.
More Feva information – link