This yacht race, from East Down Yacht Club, Strangford Lough, to Peel Harbour, Isle of Man, is open to yachts registered with the Strangford Lough Regatta Conference.
Classes
Class 1 – IRC yachts – Numeral Pennant 1.
Class 2 – PYS yachts – Numeral Pennant 2.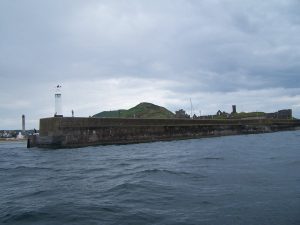 Class 3 – PYS Restricted Sail yachts – Numeral Pennant 3.
More Details in the NoR and Sailing Instructions 
These are available via the links above or also via our download section
It is the longest local offshore cruiser race and has an international element
(roaming charges), and is very enjoyable.
We get a great welcome in Peel Harbour marina and from the local club –
Peel Sailing and Cruising Club (PSCC)
and are very grateful for their hospitality.
The  three classes (IRC, CHS and Restricted Sail at 10 mn separation) race from within the lough. All starting at the EDYC Committee boat – First  warning signal 11:10. The course may use an inside of the lough mark as a turn point to enable an up wind start line and the finish will be Peel, Isle of Mann. The finish line formed as an extension of Peel pier.  Race announcements and communication will be made on channel 37. We are seeking helms to assist with time keeping and have put fuller details  within the SIs.