EDYC opening day – 50th Anniversary Special Event
On Sat 28th April 2018 a small ceremony, a gathering and some speeches marked the club's 50th Anniversary.
Speeches from Margie and Frank entertained and amused the gathering and much club history both orally and in our exhibition is evident.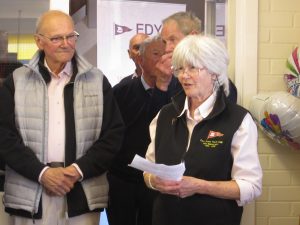 During the gathering Wine and cheese was liberally dispensed
and afterwards a Quiz was undertaken in the bar. It was considered by all attending to be a good night and the exhibition will remain for some weeks as initially presented and later the graphics will become part of the club standing displays.