21 April 2022 – 24 April 2022 Ballyholme Yacht Club
After months of training around our club, the youth sailors from EDYC attended the Youth National Championships. They were among over 200 to take part in the 2022 Irish Sailing Youth National Championships on Belfast Lough last weekend.
With back to pre-covid numbers the event was hosted at Ballyholme Yacht Club in Bangor. Our own sailors participated in the Topper 5.3 dinghy fleet and ILCA 4 (the ILCA 4 formerly Laser 4.7) and 6 Laser dinghy fleets. Alongside them were sailors from around Ireland in the National Opi fleet, the double handed 29er's and the 420 dinghy fleets — the latter of which were fully integrated for the first time.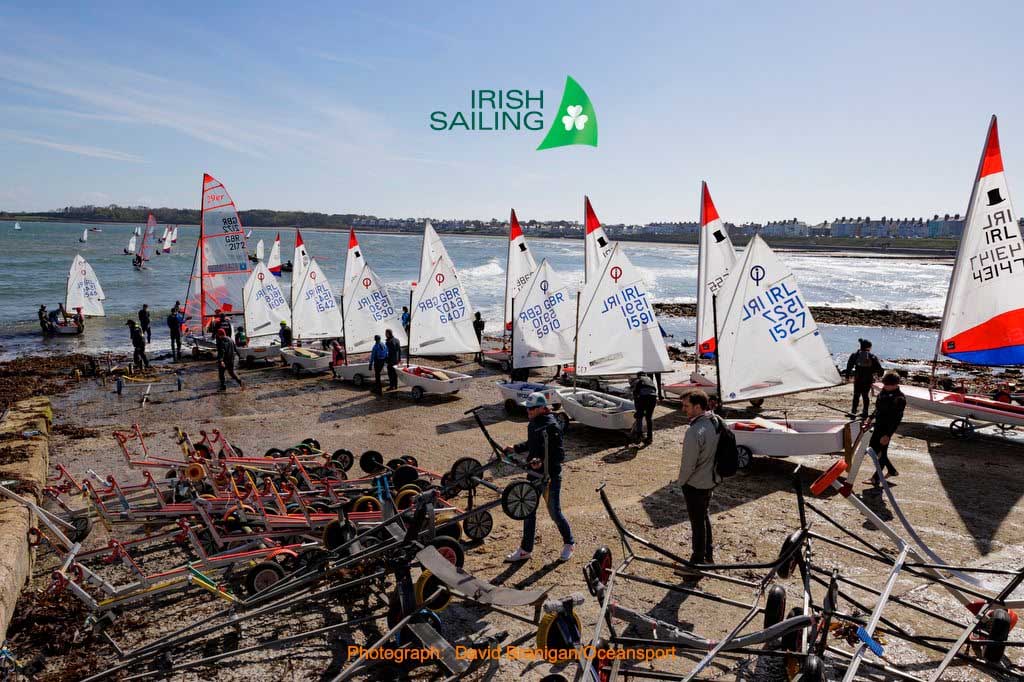 The event would offer a range of weather patterns and sea states to stretch all the competitor's skills. When we asked our own sailors how they felt they performed, their responses echoed 'highs and lows' both literally and figuratively.
On each of the racing days the wind came in from the North East with a following fetch coming all the way from the top of the Clyde. The range of breeze would be shifty with a cold bite in it. Over these four days it would range from 3knt light airs to 20+ heavy conditions.
With this setting in place the young sailors would be required to display their plaining and surfing knowledge. As well their flat water and light air understanding. Being ever careful not to get penalised for pumping/rocking/sculling, if they wanted to climb the national rankings.
To see a full write up see-
https://www.sailing.ie/News/id/4962/youth-nationals-2022
With such a large number of dinghy's attending, Ballyholme had reached out to the clubs around the Antrim and Down coast asking for assistance with Ribs and offering Race Official experience. With this in mind EDYC was able to support with a RIB and with members volunteered in gaining valuable experience in assisting with an excellent race management team.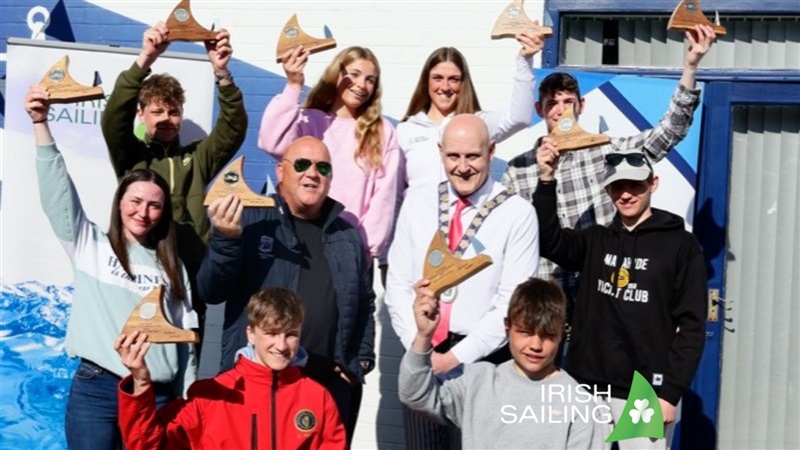 While the four days where filled with first-rate demonstrations of sailing, an incident did occur. On Saturday due to wind against tide conditions a large number of the fleets had to retire early. During their return a 'small number' of competitors sustained minor injuries while getting into difficulties. One person was taken to hospital for observation following a concussion but no serious injuries had occurred and all competitors where fully accounted for. An official rigid inflatable (RIB) also capsized in shallow water. The RNLI and HM Coastguard assisted during this time as part of the event safety protocols.
For an insight into some results see
https://www.sailwave.com/results/ballyholmyc/I%20Y%2022%20il4&t.htm
Finally, and in the words of our own young sailor the event had 'high and lows' but it was a 'fantastic sailing competition'. As a club we are very proud of our youth sailors representing at a National level, club level and social level. We would like to congratulate all of them and hope that they will continue to encourage sailing within our club.
If you are interested in getting involved in youth training at the club, please check out the club calendar
https://edyc.co.uk/wp-content/uploads/2022/04/EDYC-calendar-2022-v4.5.pdf
Email our club secretary Alan on edycsec@gmail.com
Join EDYC Youth sailing What's app group
Check out the club newsletter that is posted up on the club noticeboard
Ask any member of the Sailing Committee for advice
Visit https://www.rya.org.uk/gbni/ryani/performance/youth-performance-programme
For Irish events see or check out https://www.sailing.ie/