Young Sailors aged 8-19 from have been invited to take part in a Youth Event at East Down Yacht Club. This is on Sunday the 28th August 2022 and is part of the Strangford Lough Youth Series…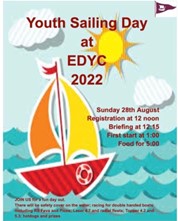 This is an opportunity for the young sailors from around the lough to put those skills they have learnt in training through the summer into use. The Strangford Youth Series is a volunteer run organisation providing youth sailors across the Lough with opportunities to race with other sailors from different clubs in a relaxed and fun way. The race series aims to include 5 events at sailing clubs across the Lough each year, with individual race results and an overall series. The sailors can take part in any type of boat and a handicap system is used to balance the results. The one planned for our club EDYC at the end of August is the last in the series this year.

At East Down, we hope to provide 2 races that will encourage single handed and doubles within the beautiful waters at our club. We are encouraging adults to get onboard and join in with their youth. With prizes set aside for all participants, 1st place for Double Hander; 1st place for Mixed Double; 1st place for Laser; 1st place for Topper; and 1st Newcomer to Sailing at EDYC.
We are hoping for the good weather to hold up and look forward to seeing all our youth out before the return to school.
To register your interest please complete your registration form and email us a copy by Friday 26th August 2022.
If you have any questions or queries please email.
EDYC Youth Sailing Registration Form Link – <– provided or direct from WWW.edyc.co.uk downloads section.