We have had two major incidents at the club within the last two weeks. Those involved were competently assisted. It is important that no-one at the club is left short of help or facilities. Everyone should have safety at the top of their considerations, plus a knowledge of what to do if things go wrong.
Thus this post.
Defib
We have a defibrillator at the main clubhouse door. Access to it – is via a small adjacent break glass type box which contains the triangle key for the main defibrillator box. The defibrillator is ready to go – indicated by a small flashing green led which can be seen through the case and the door. The defib is automatic and has voice prompts assisting its use.
First Aid
First Aid kits are present in both the downstairs kitchen to the left of the entrance door and in the upstairs kitchen on the gable end wall. The RIB shed also has a First Aid Kit on the wall near the electricity panel. In addition each white barrel on the shed back wall shelves has a First Aid kit. Please if you use any kit make certain we know about it, so materials can be replaced.
Water Based incidents.
The club has the background concept that a club boat should be ready for immediate assistance to anyone on the water. Thus the main step on boat is the Chevvy followed by the RIB named Osprey which is on a close mooring. The keys for both boats are available and it is suggested only competent people should go afloat in conditions where a rescue need has arisen. If in doubt contact the Coast Guard
We have an action plan which is known to all our instructors who incidentally are and must be First Aid trained. A hard copy of the plan is in each white barrel.
This plan is in the downloads section of the web site and is being re- highlighted within this web post.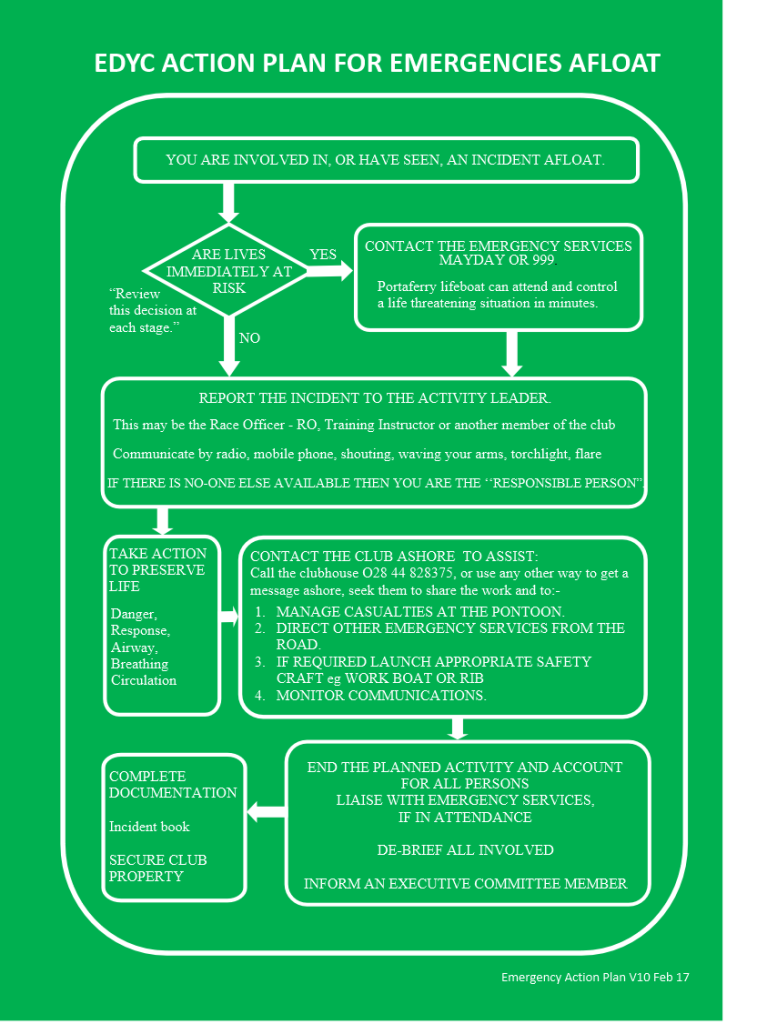 Download a version – via this link
Working alone
While working or boating alone, a mobile phone close to hand is a valuable reassurance that some communication may/might be made if required.
Please stay safe and assist others in a safe manner to also achieve their tasks.