Notice to Mariners Notice no.1 of 2023 Issue Date:24 January 2023
Limestone Perch missing
Mariners are advised that the Limestone Navigation Pole is currently underwater/missing effective from today 24th January 2023. Mariners should give the aids to navigation a wide berth paying particular attention to the strength of the wind and tide.
When an Aid to Navigation fails there is significant risk to the mariner and the environment, and it is essential that the relevant authorities are informed immediately so that any loss of service can be restored as quickly as possible.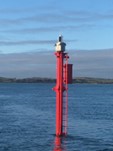 Please be advised that the Navigation Aid position in Strangford Lough is, 54 degrees 25.192 North 005 degrees 36.182 West.
A yellow buoy will be put in position to mark the missing pole. The light and pole will be replaced as soon as possible.
Issued on 24th January 2023
This web site has some history of the aids to navigation in the lough:-
Aids to Navigation have been installed in Strangford Lough in 2011, making a huge improvement to safety on the Lough and boosting efforts to increase water based recreation for tourism and sport.
See also details via this link which has some small chartlets.