SLRCA Round the Lough Race
using a Mark 9 substitute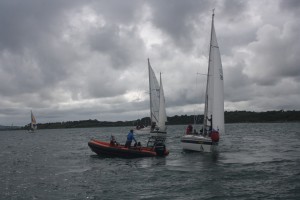 Sunday 13 th September saw about 9 knots of wind from the south.
The first mark — chosen as mark 9, was missing,  washed ashore and was temporarily replaced by the EDYC RIB Osprey. Many thanks for this – it saved the race.
Results are within Hal under Race 4 of 13 Sept  – click here
Photos are available as a gallery  – approach from our Gallery  link in the top bar