As a diversion from your Christmas preparations, can I just thank those of you who attended the recent EDYC AGM, and introduce your new Executive Committee for the 2020 season.
The AGM was very well attended, and we enjoyed mulled wine and snacks while watching a slideshow of the New Boathouse building project completed during this season.
John Millar assisted by Meredith Grieve, presented the prizes for sailing series and various other events. It was good to see so many of the winners in the room.
The AGM was started with the usual reports, in particular showing a welcome number of new members. The Resolutions were all passed with one or two minor amendments, and the elections resulted in all positions being filled.
I was sorry to see Margie Crawford standing down from the executive, but delighted that Dawn Stocking was elected to join us, and that Stephen Dow agreed at short notice to be proposed for the position of Vice Commodore.
The full Executive Committee is:
Commodore                                  Gordon Reid
Vice-Commodore                         Stephen Dow
Hon Secretary                                Alan Wood
Hon Treasurer                               Peter Thompson
Rear Commodore Sailing             Finbar Jennings
Sailing Captain                               John Millar
General Committee                      Graham Wright, Malcolm Beatty, John Dixon, Dawn Stocking
Full details of the AGM outcomes and the prize giving will be available soon, along with other positions finalised for the coming season.
I must thank everyone who has worked so hard to keep the club going this year, in any way. It is amazing how much goes on without members realising. A lot of behind the scenes activity paves the way for so much training and action on and off the water.
As the calendar takes shape for the coming 2020 season we are looking at possible events for 2021 also, and it is important that we do not just plan short term and do what we have always done, and no more.
Please keep an eye on the site and your belongings over the winter, and if you see strangers or suspicious activity please report it to an Executive member.
There will be some enthusiasts getting out on the water over the Christmas period, in particular on 28th December, and if you are around I will hopefully see you then. In the meantime, on behalf of the Executive Committee, I wish you compliments of the season and a successful New Year.
I hope that we are ready for the likely surge in interest from people wanting a Leisure 17 since the recent global interest and publicity of its load carrying capability…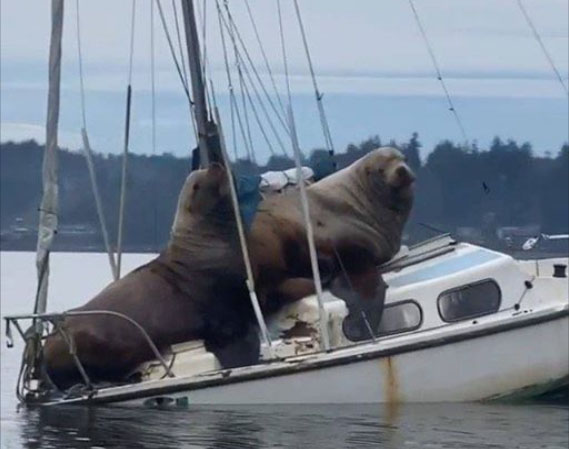 Best wishes
Gordon Reid, Commodore